RESIDENTIAL LAND WITHOUT THE 5 YEAR BUILDING TIME FRAME
Lot KJ Keswick Island, MACKAY QLD 4740
Description
LOT KJ BASIL BAY LEASEHOLD LAND, KESWICK ISLAND
Elevated sloping lot of unique island land. Overlooking beautiful Basil Bay and across to the mainland. The block is approximately 360 mtrs to the best residential beach location on Keswick Island. Currently there is a considerable amount of vegetation on the lot making it difficult to photograph the full potential of the views from this location.
Keswick Island is approx. 530 hectares in total area offering sundrenched beautiful beaches, tropical vegetation and stunning vistas over the vast blue ocean. 34 kilometres off the coast of Mackay in tropical Queensland this island is a part of the World Heritage Area the Great Barrier Reef of Australia.
Given the pristine nature and uniqueness of Keswick Island, great care will be taken to ensure that all future development will enhance the natural attributes. Eco-friendly guidelines are in place to maintain the distinctive difference planned for Keswick Island.
No high rises, no crowds, no cars, no spoiling of the natural beauty of this breathtaking location. No more than 117 hectares of the island is to be developed.
Become a part of this community engaging in the use of modern technology to preserve the environment and become self sufficient in energy sources and lifestyle.
The easy bushwalking tracks offer breathtaking blue water views over the Coral Sea and neighbouring islands. On the track to Connie Bay, pass the bees that produce Keswick Island honey and be amazed at the thousands of Tiger Blue butterflies amongst the trees. Swim, snorkel & explore the magic coral gardens surrounding the island. Divers enjoy the reef and three wreck sites all within half an hour of Krystal Beach. Cross the passage to St Bees Island and spot the koalas. Many top fishing spots close by.
Situated about 1000km north of Brisbane and 34 km east of Mackay, the climate of Keswick is that of a sub tropical rainforest region, with wonderful cooling sea breezes in summer.
Contact Karen for your inspection.
Agent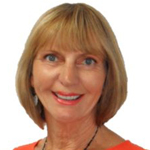 Karen Cooke
(Residential Sales and Commercial/Industrial Management & Leasing)
P.0411130686
Karen enjoys helping people acquire real estate investments that enhance their portfolio, lifestyle and knowledge of the real estate industry.
A fully licenced Real Estate Agent with over 9 years' experience in the following areas: Commercial sales & leasing, Residential sales & leasing, Development sites and Land sales.
Karen is very excited about the future of Mackay and the surrounding districts and believes that we live in one of the greatest locations on the coast where people can enjoy amazing natural beauty. From our mountains to the sea we enjoy the best of both worlds with a progressive city offering all who live and invest here with endless opportunities.